"Sip-N-Puff", Mouth controlled Joysticks

People with quadriplegia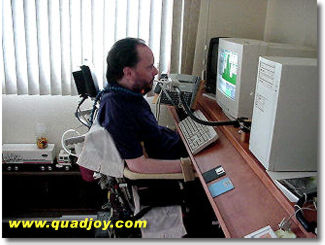 may find these systems to be a simple and effective way to control movement of the mouse, and mouse features as button clicking.

Movement of the mouse is similar to that of using a "Mouthstick". Movement of the on screen mouse or cursor is relative to what direction the joystick is directed. For example, movement of the stick to left; directs the mouse to left side of monitor screen. Movement of stick downward, will move the mouse down the monitor screen.

Mouse button clicking is accomplished when a user Sips or Puffs into the joystick, similar to that of a straw used for drinking fluids.


QuadJoy
by Street Electric Manufacturing Co.
N9096 Dairyland Dr.
Cleveland, WI 53015
NOW TOLL FREE! 1-877-736-2663
Or 920-693-2824
FAX 920-693-2825
Jouse2TM
by Compusult Limited
40 Bannister Street
Mount Pearl
Newfoundland, Canada
A1N 1W1
Toll free: 888-388-8180
Tel: (709) 745-7914
Fax: (709) 745-7927


An on-screen keyboard will be needed for typing information into common applications such as word processors and e-mails.






SAM (Switch Adapted Mouse) as a Joystick





Has a click, double click, and drag switch inputs.
When you push the stick, the cursor does not go flying, no matter what the user does.
Moves in that direction at a given speed, controllable by the supervisor from a switch underneath.