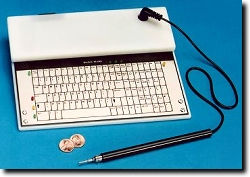 Magic Wand Keyboard

A Miniature Computer Keyboard and Mouse for People with Disabilities

Needs No Strength, No Reach, No Dexterity, Just the Slightest Hand or Head Movement

Measuring 7" x 6" x 0.5", with a typing area of only 5.4" x 3" (the Advanced Magic Wand Keyboard is 1" wider).

The keyboard works with the slightest touch of a wand (hand-held or mouth stick). It requires absolutely no force. The mouse works exactly like a standard mouse, with every function built in, but needs no hand dexterity.

The Magic Wand Keyboard allows disabled people with limited or no hand movement to access any IBM or Apple Macintosh computer using only slight hand or head motion. It is the only computer keyboard, and mouse, that requires no strength and no dexterity.

Being disabled does not mean having to give up using a computer or the Internet. The Magic Wand Keyboard provides full keyboard and mouse capability so that anyone with a disability can use a computer and the Internet with ease.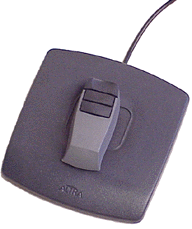 MicroPointTM Pointing device.
Has an operating range of only 1-1/8 inch (28 mm) square. Fingertip control, might be a solution for computer users have limited range of motion and cannot handle a standard mouse. Compatibility with:
Windows 9X and Windows ME
9-pin or 25-pin serial port
PS/2 mouse port


Intuos2
by Wacom
Drawing tablet and mouse. The elegant shape and feel of the pen, with its tapered waist and finger flare, to the exact texture of the drawing surface, is designed to minimize strain and maximize comfort. With many Wacom tablets you also have a choice of tools. The pen for pen-on-paper feel and pressure-sensitive control. The mouse for a familiar navigation approach and static accuracy. Both are cordless and batteryless for maximum comfort and convenience.