Ergonomic Keyboards
Equipment design that is intended to maximize productivity by reducing operator fatigue, discomfort, and helpful to people who have experienced repetitive stress typing injury.


DataHand® on DataHand® LaplanderTM lapdesk
by DataHand Systems, Inc
Envision the fingers of a stationary, supported hand moving north, south, east, west, and straight down around their at-rest position. This vision gives an idea about how the keys on the DataHand ergonomic keyboard are operated. A DataHand user's fingers move less than half an inch in each direction.

The DataHand key assignment display is above the fingers, always visible, never covered by the fingers. Each of the modes is differentiated on the display by a different color: green for Normal (alphabetic) mode, blue for Numbers and Symbols mode, yellow for Function and Mouse mode, and red for Ten-key mode.





Finally-- a "Keyless Keyboard" eliminates pressing keys. The orbiTouch Keyless Keyboard by Keybowl is comprised of two domes upon which the hands comfortably rest. Each dome moves "slides" into one of eight positions from a central resting point; It may be helpful to think of these dome movements in a compass arrangement: N, NE, E, SE, S, SW, W, NW. Each dome is capable of sliding into the same eight compass directions.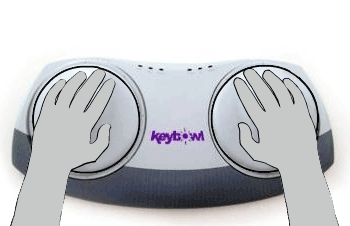 Comfort Keyboard SystemTM by Ergopro eliminates awkward postures of the hands, wrists and arms.
This keyboard also has a feature for "programable rest indicator" reminding the user to take periodic breaks. An "Adjustable Keyboard" with three sections that can be positioned close together or further apart, and rotated and titlted to many angles.