One Hand Typing Software, Tutorials, and Manuals

Before you consider adaptive keyboards, visit the website by Lilly Walters, author of a manual titled About One Hand Typing and Keyboarding. Lilly has written this manual for teachers, parents, vocational, occupational and rehabilitation therapists, who wish to help someone with a disability of the hand learn to type, keyboard and use a computer with the speed of a professional, or just for fun.


"Keyboarding by Ability" - One-Hand Edition
Allows a student with One-Hand to acquire keyboarding skill using a touch system designed to reach employable speeds. Includes 1, 3 and 5 minute timed writings.


StickyKeys
A helpful, often overlooked, software application that allows for pressing 2 or more keyboard keys simultaneously. StickyKeys (or latch key) allows users to press a key and then release it, and then press the other key or keys without having to press and hold all simultaneously.




One-handed Keyboards


Half-QWERTY keyboard by Matias Corporation One-handed and two-handed typing. You now have the ultimate in flexibility. Type with one hand or two, you decide. The Half-QWERTY keyboard uses high-quality Alps mechanical key switches, with enhanced tactile feedback for greater comfort and faster typing speeds.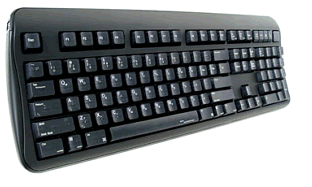 With its unique Hydra Cable, the Half-QWERTY Keyboard works with both PCs and Macs (including older ADB Macs). The Hydra Cable has 4 connectors: PS/2, USB, ADB, and an ADB passthough for connecting additional ADB devices. Plus: there are no adapters to lose. All 4 connectors are directly attached to the cable, so you never have to worry about lost adapters.

2-port USB hub. For quickly attaching USB peripherals, nothing beats the convenience of an in-keyboard USB hub. No more reaching through the tangle of wires behind your computer to download photos from your digital camera. Just plug it into your Half-QWERTY Keyboard and you're ready to go. Works great with MP3 players, keyring hard drives, joysticks, and mice too.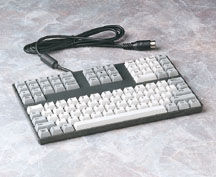 One hand typists might find a Space Saver keyboard by Datalux can be an alternative for typing with only one hand. These keyboards have the same key layout as traditional keyboards only the size of the keys are 60% size of traditional keys. This places more keys beneath the user's finger tips.





The Maltron "Single Handed" keyboards have a special shape and letter layout. They have been very carefully planned, taking into account the limited number of keys that can be accessed quickly and comfortably. "Touch Typing" both Left and Right hand models with self-paced manuals to ensure quick and easy learning.