Handheld Spell Checkers

Speaking Homework WizTM
by Franklin Electronic Publishers
This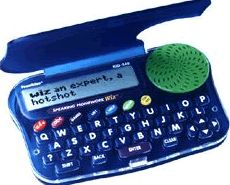 pronounces words and definitions. It allows users to type in a word the way it sounds and receive a correction list. For example, "nolij" will find "knowledge"; "kaufee" will find "coffee". It also shows how to write an assigned word, providing an instant penmanship lesson on any letter or word, in manuscript or cursive style.








The Speaking Language MasterTM Special Edition
by Franklin Electronic Publishers
For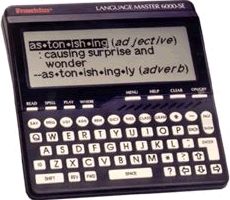 blind and visual impairments; individuals with learning disabilities such as dyslexia. Headphones are included for private listening, along with an AC adapter, press on locator dots, a large print reference card, and instructions in print and cassette.