Augmentative Alternative Communication Accessories

FRS Custom Solutions
Forbes Rehab Services has developed our own line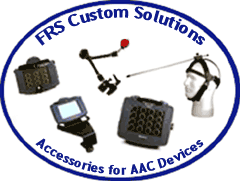 of Custom Solutions for users with extended or specialized needs. These products are developed by FRS using our 14 years of experience in the field. For further information, simply click the appropriate image. Please feel free to call 1-888-884-2190 for more information.






Augmentative Alternative Communication devices

LightWRITERs by ZYGO Industries, Inc.
Are portable text-to-speech
communication aids. Unique in having dual displays, one facing the user so he or she can see what is being typed, and a second outfacing display to allow communication in a natural face-to-face position. Are simple to use, yet very effective...just turn it on and type. The large, bright displays are easily seen by both the user and the listener(s). For clients with autism, laryngectomies, C.P., head injury, ALS, etc., the LightWRITER is small, lightweight, and attractive in any situation. LightWRITER SL35/BIG KEYS with its extra large keys, provides easy access for those with motoric or visual limitations. The LightWRITER SL35/BIG KEYS keyboard is arranged alphabetically making it an ideal starter unit for youngsters learning to spell or for individuals who can't cope with the standard typewriter layout.





The 7-pound DynaVox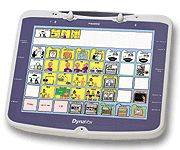 features a 12-inch diagonal color display screen, which allows for more vocabulary to be displayed on a single page. This also benefits communicators with visual and fine motor impairments.

A miniature DynaVox, the 3-pound DynaMyte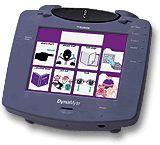 is the only easy-to-carry device with powerful communication capabilities. Perfect for ambulatory communicators, DynaMyte comes with a handle and shoulder strap for easy carrying.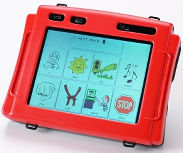 SpringBoard
by Prentke Romich Company is a digitized speech, dynamic display product. A starting point for the child or adult just beginning the augmentative communication process. Compact and lightweight design. 7.5" color, touch-screen display for ease of viewing and access. Access via direct selection, scanning or headpointing (with the optional Headpointing Access Module). Text display that allows the individual to see the word or phrase being spoken. A dynamic Activity Row for access to extended vocabulary. USB connectivity for use with headpointing systems requiring USB connection.


Pathfinder by Prentke Romich Company is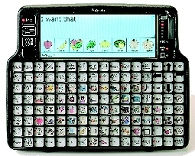 a powerful communications tool that features both a static keyboard plus a color dynamic display for a new generation of augmentative communication solutions. And it comes already set up with vocabulary, pictures, computer keyboard emulation and infrared controls.
The Pathfinder is lightweight (4.5lbs), compact and reliable. Its rugged construction allows it to be used every day in a variety of environments. Its battery life will provide over 10 hours of continuous use, more than enough for the most demanding operators.
Pathfinder can be accessed directly via the keyboard and touch screen display, through infrared head pointing or with switch-activated scanning (single and double switch and joystick options). Parameters can also be adjusted to create the most effective access to the device. Auditory prompts aid individuals with visual impairments. Pathfinder is also compatible with many other input products.





Vantage by Prentke Romich Company is the new dynamic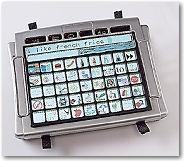 display product created specifically for consumers who require a powerful and very portable communication aid. The vocabulary structure provided in UnityTM Enhanced makes customization of extended vocabulary, as well as vocabulary retrieval, easy. Vantage also employs the recently upgraded 4.0 operating system that includes Spelling and Word Prediction and makes system settings adjustments quick and easy.

Vantage Features:
· Full Color SVGA active matrix touch screen display.
· The UnityTM Enhanced vocabulary software.
· High quality dynamic display.
· Compact and lightweight design convenient to carry anywhere.
· Synthesized speech powered by DECtalk Software.
· Digitized speech capability.
· Built-in computer access and ECU controls.





TuffTalkerTM by Words+ is the ideal communication system for users who want computer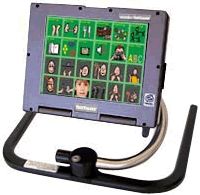 access virtually anywhere. Designed to withstand even the most challenging physical environments, TuffTalkerTM is encased in full magnesium alloy and has a shock-mounted hard drive that can withstand the rigors of the typical AAC environment--all while delivering superior computer performance in a compact, completely mobile package. TuffTalkerTM features a powerful 300-MHz Intel Celeron processor and comes fully loaded with Windows 98 and our popular Talking Screen software. A built-in touchscreen makes operating the computer easy and intuitive.






The Freedom 2000 Toughbook, by Words+ comes with superior quality and performance. You

communicate using our Talking Screen or EZ Keys software. It is tough on the outside and powerful on the inside. This rugged computer has a magnesium-alloy protected LCD display. That, coupled with a fiberglass-reinforced lower case and a shock-mounted hard drive, mean your computer´s components are safe under rigorous conditions.






Mercuryby Assistive Technology, Inc
Mercury is the first fully integrated Microsoft Windows XP-based Augmentative and Alternative Communication (AAC) device. The Mercury provides individuals with a voice to communicate socially and a fully accessible Windows computer to work independently. Our Mercury AAC device kit includes: Mercury, PS/2 keyboard, mouse, on-screen keyboard, built-in microphone, AC power adapter, integrated speakerphone, telephone communication software, pre-programmed remote control, table-top stand, user's guide, one-year standard warranty. Mercury allows a user, professional or parents to load third party communication or educational software, as needed by the user. The Mercury comes pre-installed with Microsoft On-Screen Keyboard, Microsoft Internet Explorer, Microsoft Windows Messenger, Microsoft Windows Media Player, Microsoft Outlook Express, MSN Explorer, Classic Phone Tools and QuickTime. Included on every Mercury, are pre-programmed infrared signals for most brands of televisions, VCRs, DVD players, satellite and cable receivers. This eliminates the inconveniences associated with programming a device. Additionally, the X-10 command center allows users to turn on and off lights and household appliances (additional equipment required).

Mercury SEby Assistive Technology, Inc
Mercury SE is the dedicated version of the Mercury AAC device. Mercury SE has been altered to conform to the Medicare guidelines for coverage established for speech-generating devices (SGD). The Mercury SE is originally manufactured as a full-featured AAC device and Windows XP-based computer. Once we load the communication software included with the device ATI disables the CD-Rom drive and removes ethernet access capabilities. The unit is now a speech-generating device and an option for those uses looking for a dedicated alternative to the Mercury. Our Mercury SE SGD device kit includes: Mercury SE, accessory tools (built-in microphone, keyboard, mouse and on-screen keyboard) AC power adapter, communication software (Mayer Johnson, Inc.), integrated speakerphone, telephone communication software (Classic PhoneTools), user's guide, one-year standard warranty. Included on every Mercury SE, are pre-programmed infrared signals for most brands of televisions, VCRs, DVD players, satellite and cable receivers. This eliminates the inconveniences associated with programming a device. Additionally, the X-10 command center allows users to turn on and off lights and household appliances (additional equipment required).

LINKby Assistive Technology, Inc
LINK is an easy to use, lightweight communication device that does the talking for you. Using LINK is as easy as typing on a keyboard. Simply start typing and LINK will speak. Choose from 9 different voices, use Instant Messages to access frequently used phrases quickly or save what is typed and upload to a Macintosh or PC computer. Some of the other features of LINK include (1) DECtalk speech output, (2) Eight files store up to 64 pages of text, (3) Easy to read 4-line by 40-character display window, (4) Sticky keys, key click, key repeat and key delay, (5) Standard, full-sized keyboard with 80 keys, (6) Adjustable settings for volume, rate and pitch, (7) Readback Options, (8) Abbreviation Expansion, and (9) Pronunciation. LINK Kit includes LINK, computer cable, headphones, AC power adapter, 4 rechargeable batteries and 3-hour charger, user's guide and Quick Reference card, one-year standard warranty.







The Palmtop Portable IMPACT by Enkidu has input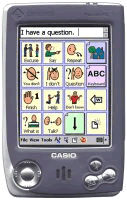 via Touchscreen, Scanning, Rocker button. Offers all of the features supported by its larger cousins. Weighing only 9 ounces, the Palmtop offers unparalleled convenience and portability. When installed in its sturdy nylon carrying case with external speaker (both included), it is ideally suited for mobile users. In addition, it can serve as an unobtrusive mounted device for users with limited mobility. The hardware utilized for Palmtop Portable IMPACT is a portable computer (the Casio EM-500) running Microsoft's Windows CE operating system.





Gus! Pocket Communicator
Dynamic display
augmentative communication system for Pocket PCs. This product is designed for people with communication or speech disorders who require a small, user friendly speech system and have the physical ability to use a hand held computer. It offers pages of words and phrases, along with the ability to create new words and phrases on-the-fly. This is a portable and powerful speech solution and is compatible with ANY Pocket PC from any manufacturer (HP, Compaq, Dell etc.).